SERVICE & REPAIR BY S&T PLUMBING
Complete installation of plumbing systems on new residences of any size Estates. Add-ons, modification/addition of existing systems.

To schedule a service call use our convenient online request form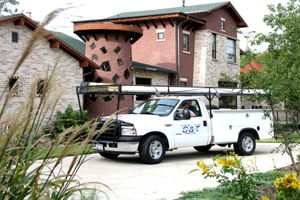 Introduction
On behalf of Marney Snow (President) and everyone at S & T Plumbing, Inc.'s -Service Department, thank you for considering us for your plumbing needs.
Our repair services include the following:
Commercial and residential property maintenance including but not limited to leak detection and repair, sewer and drain cleaning, fixture repair and replacement, water heater installation/repair, water, sewer and gas service repair and replacement, gas certification tests, restaurant services, backflow device testing and all other plumbing repairs. We are based in Irving, TX and do service work Monday through Friday 7:30 am – 4:30 pm throughout the DFW and surrounding areas. We are fully licensed and insured with only the A+ rated insurance companies.
What to Expect
All of the services we offer are with the highest standards and our commitment to your complete satisfaction is the #1 goal we strive to achieve daily. We continually work to stay current on industry and product changes as they occur, to provide this technology to our customers. Please feel free to contact us for information on new products or visit the Manufacturer's Links on our website at www.stplumbing.com. We will do our best to provide this to you.
Commitment to Excellence
We are truly committed to excellence and have been since our inception in 1970. We employ only what we consider to be the "Best in the Industry". We perform thorough background checks on all our employees and feel that our employees are a direct reflection of our leadership. Our Upper Management Team has combined plumbing experience of over 80 years. If for any reason you have questions or comments, we are delighted to hear from you. Our advertisement is 90% referrals from our existing customers, so we value your feedback. Call our office and ask for the service department at 972-259-5286 Monday through Friday 7am to 5pm Information about our commercial and residential new construction divisions can be found on our website. Again, thank you for your patronage. We look forward to serving you. Sincerely, The Service Team